Rates, Terms & Conditions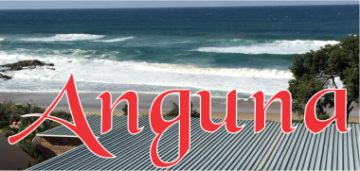 Tariffs inclusive of VAT
Per Apartment per night (sleeps 6)
| | |
| --- | --- |
| High Season (March / April holidays) | R 1 300.00 |
| Peak Season (Easter) | R 2 200.00 |
| High Season (September / October holidays) | R 1 300.00 |
| High Season (December / January holidays) | R 1 400.00 |
| Peak Season (16 December to 4 January) | R 2 400.00 |
| High Season (All long weekends) | R 1 300.00 |
| Out of Season (all other dates) | R 1 000.00 |
Rates are subject to change without prior notice.
Specials:
An Out of Season Rate at R400 per day for 2 people – Contact supervisor
Terms & Conditions
A deposit of 50% is required to secure the booking. Where the deposit is not received within 24 hours of the reservation, the provisional booking will be cancelled. The remainder of the payment for accommodation is to be settled in full 60 days before the reserved period commences.
NO cash is handled on the premises. The deposit and the full rental is to be paid prior to arrival into:
Anguna, NEDBANK, Shelly Beach, code 139728, A/c No. 1397 037 822.
The keys will not be available unless the rental and breakage deposit is FULLY PAID.
A booking / administration / cleaning fee of R200 is payable as well as a Breakages/Damages/Shortages/Unpaid Parking Rental and Extra Cleaning – 'REFUNDABLE DEPOSIT' of R500 is payable in advance. If a breakage occurs, please do not replace the item yourself as management will replace the item/s from a single supplier to ensure continuity in the ranges. Please provide the Supervisor with your bank account details for your 'Refund Deposit'
Flats are let strictly for the number of persons booked. Additional people, including babies, will be charged at R250 per person per day "in Season" and R150 per person per day "Out of Season". Sub-letting is strictly prohibited.
Tenants are to respect the privacy of the other occupants of the Premises. Loud music and unruly behavior is NOT acceptable.
Inventories in the flats must be checked and confirmed with Supervisor within 24 hours of arrival.
Flats can be occupied by 15h00 on the day of arrival. The flat must be vacated not later than 10h00 on the day of departure. Late departure may be arranged with the Supervisor. If new tenants are expected, there will be a charge of R200 per hour or part thereof.
Vacating occupants are requested leave the flat in the same condition as found. Lock all the doors and windows, and switch of the lights. Turn down the TV sound. Leave the fridge running. The alarm must be 'Armed.
Cancellation of booking: All cancellations are to reach Anguna by fax, email or letter not later than 60 days prior to reserved date, in which case the deposit less R200 booking/ administration fee will be returned. Cancellations NOT received within the stipulated period could result in your deposit being withheld as well as you being liable for the full period of the reservation
Flats are not serviced, but this can be arranged. A Mini service, comprising sweeping, making the beds, cleaning the bathrooms and pots and pans, is R100 on week days and double rate on week-ends and public holidays.
NO PETS ALLOWED ON THE PREMISES.