Here at THANDULULA you can spoil yourself with a dozen delights.
This is a corner of the Lord's garden; His TV for those who want to come and enjoy it.
2, 3 and 4 Sleeper units are available. For the more adventurous, young at heart, a separate 2 sleeper tent is also available to use in conjunction with units.
Here you can surround yourself with silence or the sounds of nature around you.
The drone of the sea sometimes far away and sometimes surprisingly close by.
Here you can get to know the strange call of the Tree Dassie and enjoy with GREAT APPRECIATION the wealth of mankind. Our nearest beaches are Southport, Banana Beach, Umtentweni and we are 1,5 km from the sea.
The property borders on a river and nature is totally unspoilt. When the river-mouth is closed, you will be able to paddle to the sea. There are various types of small wildlife on the property. Please do not feed and spoil the monkeys, they will become very familiar! A very rich and diverse birdlife will provide many hours of entertainment.
The tent is fully equipped – bathroom, kitchen with microwave oven, 2 plate stove with oven, fridge and all eating /cooking utensils. Linen and bath towels are also provided. You only have to bring your own food, beverages, clothes and beach towels. Each tent has its own braai area – please use this facility when making a fire.
The tent has an alarm system and is enclosed by an electrified fence, so please ensure that children are made fully aware of this fact. The tent can be serviced daily around 10:00 Please arrange with the office before hand.
No pets are allowed.
You are coming to Nature so please be considerate, especially with regard to late nights and music.
This little corner of God's earth is very close to our hearts.
We hope you will share our sentiments so that others passing through will also share the pretty pleasures of Thandulula!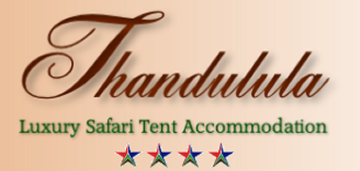 Rates & Contact | Directions & Keys
R102, 14Mhlangankulu Drive, SOUTHPORT
Port Shepstone, 4230
Email: info@thandulula.com
Tel: 039 681 3755
Cell: 082 430 3334