At Teen Ranch we offer comfortable, affordable youth accommodation in Port Edward, on the Lower South Coast of KwaZulu-Natal South Africa, to school, church and corporate groups of up to 180 people.
Outdoor challenges await you at Teen Ranch with our adventure centre on our 47HA farm.
Develop your team with Teen Ranch and our team builing activities, discover your leaders, mold your mentors or plan a group get-away to relax and revitalize.
Teen Ranch's tropical farm setting, abundant bird life and picturesque dams ensure emotional and spiritual well being, while intellectual and physical growth is challenged by our outdoor adventure center activities.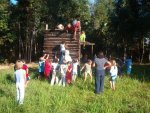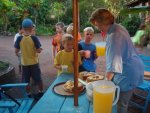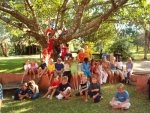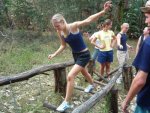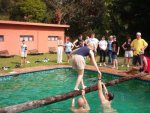 We at Teen Ranch in Port Edward, on the Lower South Coast of KwaZulu-Natal, have affordable youth accommodation that is either fully catered or self-catered according to your specific needs.
Pillow, Sleeping bag, Blanket, Bedding is needed for self-catered accommodation
Torch
Costume & Towels
Plate, mug, bowl & cutlery
Sport Equipment, soccer ball etc.
Food & catering supplies for self-catered groups.
Tracksuit, jeans, takkies & old clothes for activities.
Extension cords (for churches bringing worship equipment/ laptops etc.)
We offer a wide range of fun-filled outdoor activities, are close to the beach and offer extra outdoor activities to our youth groups when staying in our affordable youth accommodation.
Gorge Hike, Zip line/ foofie slide, Obstacle course, Raft Building, Paintball, Blow darts, Camp fire, Bass fishing, Bird watching, Soccer field, Foursquare, Beach walks & nature reserve, Beach fun, Volleyball, Swimming pool, Talks on local wrecks, Talks on snakes & small game.
Dormitory Style Accommodation
At Teen ranch we offer comfortable affordable dormitory style bunkbed youth accommodation in Port Edward, on the Lower South Coast of KwaZulu-Natal, suitable for school, church, family and corporate groups. We can accommodate up to 180 people.
Our affordable youth accommodation comprises of a combination of wooden cabins and freshly painted concrete rooms with 6-10 beds in each room
Leadership/Teacher Accommodation
For teachers/ leaders at Teen Ranch we have 4 leaders rooms with 2 single beds in each room, making a total of 8 beds. For our fully catered groups here at Teen Ranch we provide bedding and tea trays as part of our fully catered package. Self-catering groups will need to provide their own bedding. Teen Ranch's leaders rooms have separate ablutions away from the rest of the group.



Rates & Contact | Directions & Keys
Email: sarah@teenranch.co.za
Cell: 083 256 7518
Website: www.teenranch.co.za